Last month, I did The Big Reveal, sharing with you the gorgeous new cover of my upcoming Brava release, MUST LOVE VAMPIRES (September 27, 2011).
Ta-da!  Here it is again…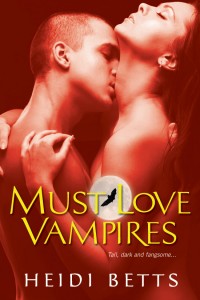 LOVE AT FIRST BITE
Nightclub dancer Chloe Lamoureaux just met the man of her dreams: Aidan Raines is charming, considerate, rich, and hot. Of course, he's a little mysterious about his age. And his favorite drink. And he's not much for sunlight. But he's asked her to marry him, and she's ready to do it. Sure, she has a few secrets too—but they'll have plenty of time to work things out while they're living happily ever after. Right?
Her identical twin sister, Chuck, isn't so sure. Maybe reporting for the local Bigfoot-sighting tabloid doesn't make her an expert, but to Chuck, Aidan and his brother Sebastian look like honest-to-Dracula vampires. Especially Sebastian: beguiling, seductive, and just a hint of dangerous. Maybe she wouldn't mind him taking a little taste. But with Chloe's life in the balance, she has to know—do they want hot love or hot blood? Or maybe…a little of both?
Oh, yes, I still love it. More every time I see it, in fact.
And if you love it as much as I do, I've got a very special offer for you.  I would like to share this amazing piece of artwork by sending you an autographed cover flat for MUST LOVE VAMPIRES.  (Along with a handful of other fun goodies I've always got on hand for wonderful readers such as yourselves.
)
If you're interested, please contact me via my website with your name & mailing information, & I'll get one out to you right away!  (U.S. residents only, please—with apologies; it's not my fault overseas postages costs have gotten so high.
)
And in the meantime, please remember that you can pre-order MUST LOVE VAMPIRES right now, if you like, so it will arrive on your doorstep the very day of its release.
Happy reading!